Carpet and Upholstery Cleaning in Northbrook, IL
Since the carpet is one of the first things guests notice when they enter a room or office, it is one of the most important furnishings. The look of the room may be negatively impacted if the carpet is faded, worn out, unclean, or stained.
For homes and businesses in Northbrook, Illinois, NuEra Enterprises offers comprehensive carpet and upholstery cleaning services. We can use cutting-edge tools and cleaning solutions to successfully remove dirt and stains from a wide range of carpet and upholstery types.  In addition, we can restore and mend carpets that have been harmed by fire, water, or mold.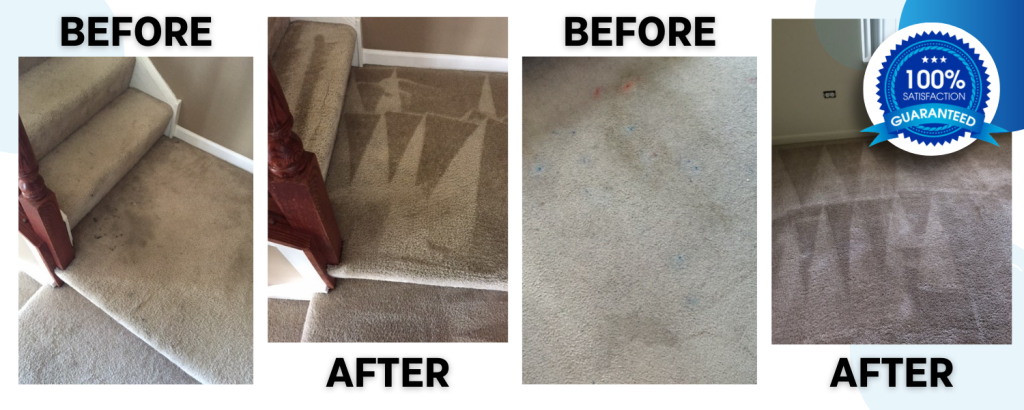 Residential Carpet Cleaning
Over time, dust, debris, and other particles embed themselves in the carpet fibers, causing your home's carpets to become discolored and unclean. Pet incidents and spills can cause stains on carpets and area rugs, and they can also absorb pet odors and other scents. While some dirt and particle accumulation can be removed with regular vacuuming, tough stains and deeply ingrained debris require professional carpet cleaning.
We at NuEra Enterprises employ highly effective, environmentally friendly cleaning products that are also safe for people and pets. We use the hot water extraction method to safely clean area rugs and carpets. This approach involves soaking the carpet fibers in a solution made of hot water and our environmentally friendly cleaner to help release dirt and debris. After that, the dirt and particles are removed together with the solution, giving the carpet its original appearance. Strong stain removers can also be used to treat stains.
Having your home's carpets professionally cleaned helps prolong their life and restores their color and texture. By eliminating dust and other irritants, carpet cleaning also helps to create a better living environment.
Commercial Carpet Cleaning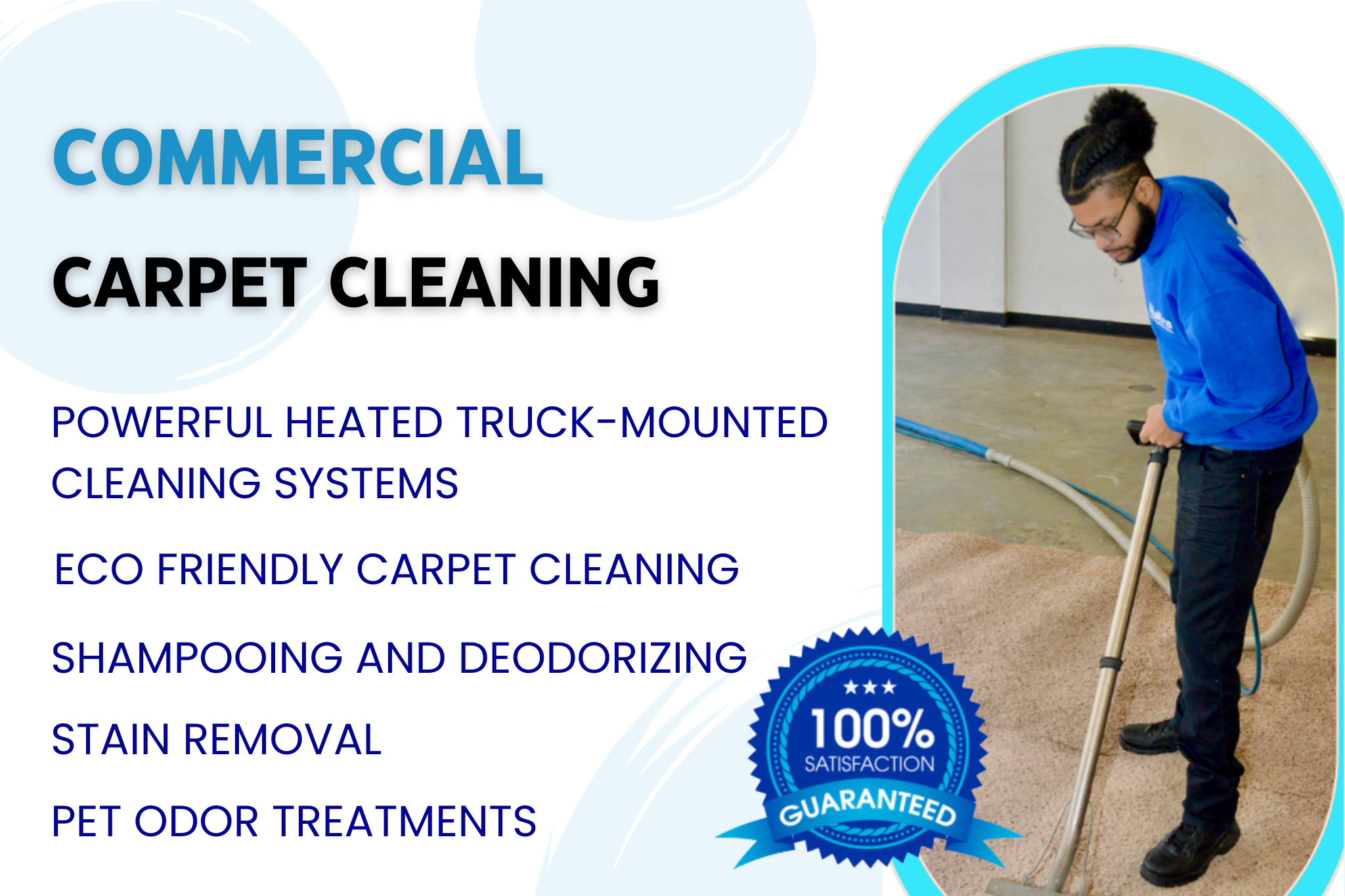 Office and other commercial carpets are subjected to heavy foot traffic, which accelerates wear and degradation if cleaning is not done on a regular basis. The appearance of your office or building, which represents your business, can be negatively impacted by a worn-out or unclean carpet. A more comfortable and polished work atmosphere is produced when your carpets are cleaned by our experts.
By using hot water extraction to remove dirt and debris and clean stains, our specialists at NuEra Enterprises can efficiently clean carpets in business environments. In addition to keeping your workspace or office looking professional, routine commercial carpet cleaning services will protect your investment by extending the carpet's life.
Upholstery Cleaning Services
Upholstery, like carpets, is subject to stains that may degrade its condition and appearance as well as the accumulation of dirt and debris in the fabric. The fabric may lose color over time and become worn down as a result of the trash that has accumulated and worn against the upholstery.  For the ultimate protection of your furniture investment, choose a professional upholstery cleaner.
Using the hot water extraction procedure, our experts at NuEra Enterprises can clean and restore a variety of upholstery fabrics. To restore the furniture to its original appearance, we can cure stains and remove dirt and particle accumulation from the upholstery fabric. Your furniture will last longer with our safe and efficient upholstery cleaning services.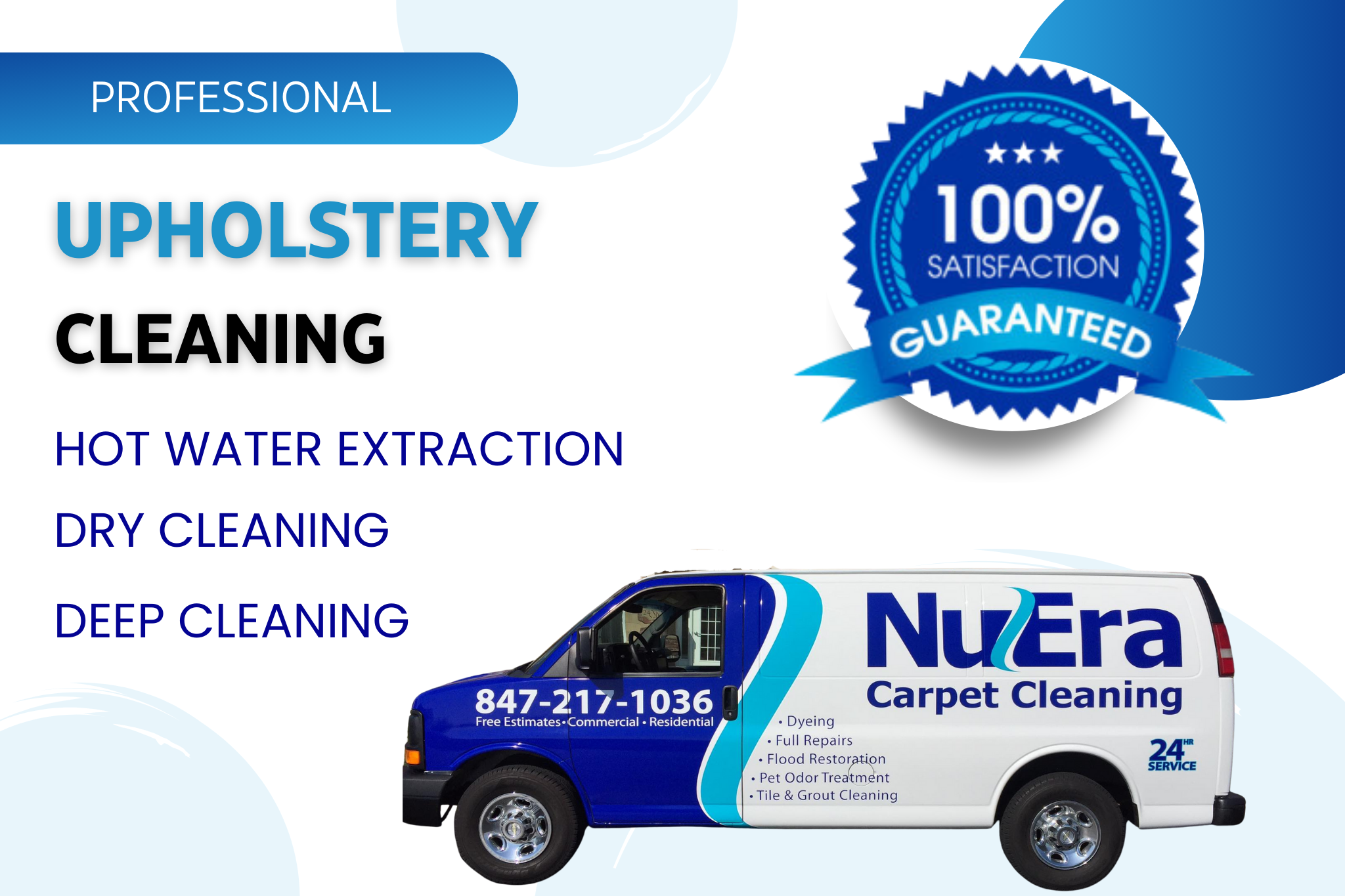 Our Residential and Commercial Carpet Cleaning Services Include the Following:
Stain removal: We are capable of removing stains of any kind from upholstery and carpets.
Pet odor treatments: We eliminate pet odors from the carpets using our potent deodorization procedures.
Carpet repairs and patches: We are able to patch and repair damaged carpets.
Disaster restoration: In the event of a fire, flood, or mold infestation, we are able to clean and repair carpets.
Cleaning of tile and grout: Our experts are capable of removing dirt from tile surfaces, cleaning grout lines, and applying a fresh coat of protection.
Cleaning your air ducts: Clearing out accumulated dirt and debris from your air ducts can improve the quality of the air and increase the effectiveness of your heating and cooling systems.
To get carpet and upholstery cleaned, contact NuEra Enterprises.
NuEra Enterprises is here to assist if the furniture and carpets in your house or place of business need to be professionally cleaned. In order to thoroughly clean and restore upholstery and carpeting, our IICRC-certified specialists utilize safe, non-toxic cleaning agents and time-tested techniques. Anticipate extended life and a brand-new appearance for your furniture and carpets.
To learn more about our expert carpet and upholstery cleaning services in Northbrook, Illinois, and surrounding suburbs, give NuEra Enterprises a call at (847) 217-1036.
Certified and Accredited by
What Our Clients Say
Testimonials
Raquel H.
We moved into our new home and we found out we had a leak from our kitchen to our basement! Our move had already been delayed and the stress levels were rising. Our Nu Era tech Chris was not only on time but first thing in the morning. Upon arrival he got straight to work on the area where the leak happened. He assessed the damages cleaned everything up and left us with a peace of mind. I'm so happy we were serviced by a informative technician that got the job done. Thanks Chris if we need anything else we will definitely request you!
Kendra G.
Our Basement Flooded. Sherron and crew were professional, courteous and efficient. The assessment of damages was a process that took little to no time. They quickly began the extraction and each step along the way I was informed of what's next. The stairs leading to my basement weren't damaged but were in need of a cleaning and they went ahead and cleaned and sanitized those too! My basement doesn't even feel like a basement anymore! It smells so good still. Definitely would use them in a non-emergent way again!
Shawn & Andrew presented themselves professionally & their work showed for it! I am pleased with how my carpet turned out & it smells so good. I cant stop smiling 😄. Thank you!!!
Jessica R. 
I hired NuEra to paint my kitchen cabinets. Erick and Naftali did a truly excellent job. Erick in particular, who spent the most time at my apartment, was extremely meticulous. He even insisted on painting two cabinets with different finishes for me, to begin, just so I could compare them side by side to be sure I liked my choice. He also took great care to keep my apartment clean -much cleaner than after the last time I hired someone to do work in my apartment. 100 percent recommend.
GET YOUR FREE QUOTE TODAY!